Avaqua
Cleaning and dewatering
Avaqua
Avaqua is a multi-purpose cleaning spray and polish which leaves no straking or residue upon evaporation.
Avaqua is a multi-purpose dewatering fluid and cleaner for use on any bike. Particularly useful on disc rotors and rim brake surfaces, to prepare surfaces for sticker and bar tape adhesion and to clean oil or grease spills. Dries rapidly after cleaning and leaves no sticky residue. Safe to use on carbon, rubber and alloy parts.

AVAQUA is an excellent cleaner and dewatering fluid which is perfect for:
Degreasing rims and disc rotors so brake pads grip and braking performance improves.
Removing moisture from the drivetrain and brake calipers.
Cleaning glasses and sunglasses
Degreasing and cleaning frame prior to applying stickers
Cleanup after a spill of lube or brake fluid.
Giving forks or shocks a final spray wipe and clean after service.
Applying to bars so grips slide easily into place and then remain in place after evaporation of the AVAQUA.
AVAQUA does not cause damage to tyres, paintwork, carbon or alloy parts. After cleaning it evaporates rapidly and leaves no residue.

DIRECTIONS FOR USE:
Remove mud and dirt from area that needs degreasing and cleaning.
Allow excess water to drain.
Direct fine spray of AVAQUA directly onto the area (e.g. frame, braking surface, chain, glasses etc).
Thoroughly dry and clean with dry, lint-free cloth.
Allow to air-dry.
Brake Pads:
Check there is still a good thickness of pad compound, more than 2mm is a good guide. If it does then a nice easy bit of maintenance to revitalise a grubby pad (top right) is to clean thoroughly with AVAQUA and then sand back braking surface with some fine P800 microgrit paper. Make sure to bed the pads in again after this. If pad is too worn or looks to have other damage then replace.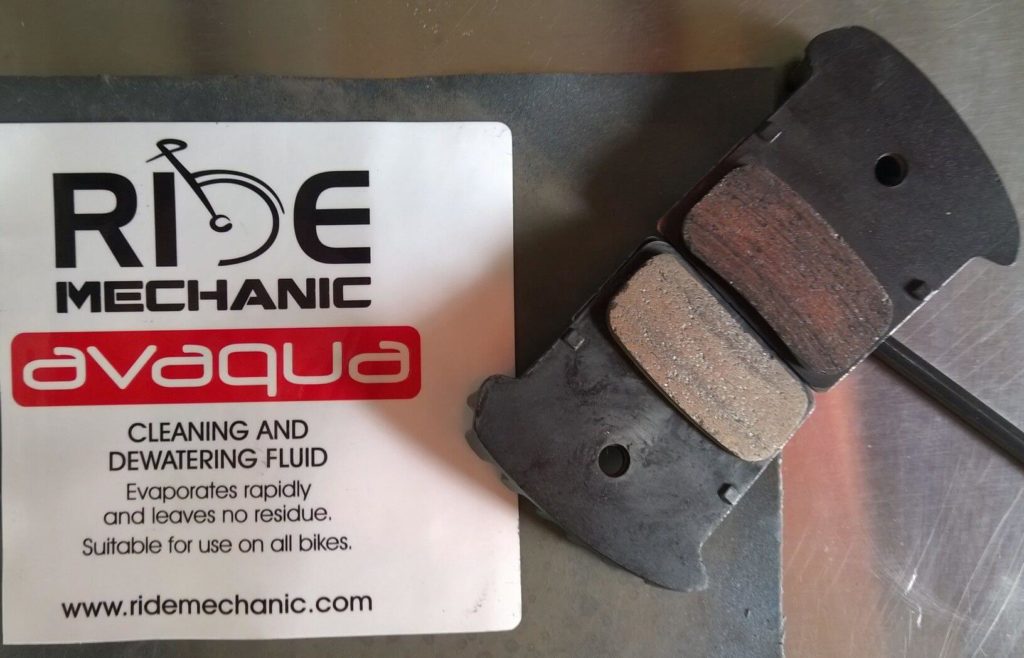 CLEANING
More about us..
It has taken several years to perfect the RIDE mechanic formulations and the benefits of this rigorous testing and improvement process are best enjoyed by testing them yourself!
Please contact us for any technical enquiries about RIDE mechanic products and we will do what we can to assist.
For wholesale enquries, please use