Downunder
Proudly created and made in Australia.
Downunder
Downunder is an antifriction balm for endurance athletes.
It soothes and protects against chafing and is water-resistant making it ideal for longer events, hot conditions and triathletes.
RIDE MECHANIC DOWNUNDER is an tea tree oil antifriction balm for endurance sports.
Downunder is an Australian made product to help endurance athletes reduce the effects of friction and chafing. It is used by endurance triathletes and cyclists and is water resistant, forming a soothing skin coating for long-term protection. It contains natural plant extracts with well known properties.
SOME PLANT EXTRACTS AND ESSENTIAL OILS ARE KNOWN TO CAUSE SKIN IRRITATION OR SENSITIVITY IN SOME PEOPLE.
DISCONTINUE USE IF SKIN IRRITATION OCCURS AFTER USING DOWNUNDER
SEEK MEDICAL ADVICE IF REQUIRED.
Contains proprietary Fric-off skin lubricant:
Tea tree oil: Distilled from Melaleuca alternifolia leaf which is native to north eastern NSW. The oil has well known antimicrobial and anti-inflammatory properties.
Calendula oil:This oil extracted from Marigold flowers has been used to soothe irritations, reduce swelling and promote wound healing.
Vitamin E:Has moisturising and anti-inflammatory actions when applied to the skin.
Rosemary extract:Used for its antimicrobial properties.
Coconut Oil:Skin moisturiser and protectant with wound healing properties.
HISTORY:In the early days of cycling knicks were knitted out of wool and this "one-piece" construction would bunch-up making for an uncomfortable ride. The knicks then changed to multi-panel designs with different fibres. This meant that there were seams, and with seams came extra friction, and with extra friction came greater discomfort. Designers looked for ways to cover up the seams, opting for the soft leather from a Chamois goat, hence the name chamois. The chamois leather was tanned using cod liver oil and became very stiff when dry. Cyclists took great are of thier chamois and did not let it dry out, and often coated it with various "moisturisers" like lard, lanolin, olive oil etc. Needless to say it was not a beautifully clean piece of clothing.
Nowadays, knicks do not contain chamois leather and are multi-layers of synthetic fibres with carefully engineered wicking fibres to remove moisture from the skin. Because of the moisture absorbing technology, manufacturers do not design the padding to be coated with oily anti-friction creams. There is also an expectation from riders that the padding will be clean and dry after washing. Most riders still use anti-friction creams and it is the oily nature of chamois creams that makes them work.
CLEANING:The more oil, the more likely the anti-friction balm will be to impregnate and bind to the fabric and cause "staining". Knicks should be turned inside out and then washed using laundry detergent in normal wash cycle,. If the padding is heavily stained, and this is causing concern, then use a stain remover like Sard Wonder Soap.
The recommended cleaning process for the padding after using DOWNUNDER is to turn knicks inside-out then pre-treat the oily areas with a detergent e.g. Sard Wonder Soap imediately after changing out of riding gear. Leave the detergent to penetrate for a few minutes e.g. while having shower, and then wash the knicks in washing machine with the full dose of washing detergent, as normal. Always follow knicks care instructions. Check fabric after washing. If stain is not completely removed, pre-treat again and re-wash. It is important to wash thoroughly as concentrated detergents can be skin irritants.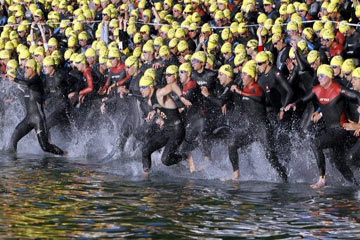 WETSUITS: Many triathletes use a waterproof antifriction cream around the neck of their wetsuit to prevent discomfort and chafing during the swim leg. There is a lot of conjecture about the compatibility of some anti-friction products with wetsuit materials e.g. neoprene, seam-seals etc. Some say the entire discussion was started as marketing hype by manufacturers of expensive anti-friction products which then positioned themselves as "wetsuit compatible".
At Ride Mechanic we believe that the best antifriction products leave a thin, lubricating film between the surfaces where rubbing occurs. In a swim leg it is vital that the product is waterproof so it doesn't dissolve and vanish within the first few minutes then leave the surfaces unprotected. Some anti-friction products are not as water-resistant as their users would like to think!
Ride Mechanic recommend using a thin film of Downunder around the neck of the wetsuit for excellent long-lasting waterproof & soothing action.
During clean-up of the gear soon after the event please ensure that the wetsuit is washed, dried and stored as per the manufacturers recommendations. Storing a wetsuit dirty, damp and crumpled is not good! We haven't tested Downunder on all types of westuit but we do not expect any material incompatibility and so far all feedback is very positive!
More about us..
It has taken several years to perfect the RIDE mechanic formulations and the benefits of this rigorous testing and improvement process are best enjoyed by testing them yourself!
Please contact us for any technical enquiries about RIDE mechanic products and we will do what we can to assist.
For wholesale enquries, please use