NZ Testing
Review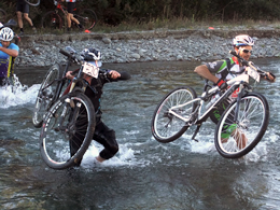 I've been using Bike Milk for about a year now and I'm really impressed at how it performs in NZ conditions.
My first planned event for the summer racing season was the Whaka100 race in Rotorua in October 2012 (a single 100km loop that uses the majority of the singletrack in the Rotorua Redwoods) so I needed to do some decent endurance rides through the cold NZ winter.
Temperatures were often around 5 degrees when I started and lucky to be 10 degrees when I finished and I did strike some snow on the hill tops at times. My hands and feet were often numb, my nose was running, but the drive chain was quiet and I would usually only re-apply lube after every 2-3 rides to keep it running smoothly. As well as the endurance rides, I participated in the local winter cyclocross 5 race series on my MTB. This was great intensity work racing against the cyclocross bikes. The courses usually had mud and creeks, so the drivechains were caked in mud at the end. I found when I cleaned the dried mud off afterwards, there was still a coating of Bike Milk on the chain. I was often able to get another ride before I needed a new coat of lube.
Now that we are in summer, the tracks are often very dusty and the Bike Milk has no problems dealing with a 4 hour ride – usually I'll get 2 long rides before I re-apply, unless there has been a combination of dry tracks and river crossings. Dust – water –dust – water plays havoc on a drivechain and those conditions are very common on 2-5 hour back country NZ endurance events that I favour. In the past I have usually carried a small bottle of lube that I have had to use after 2 hours – another 2-3 hours of a squealing chain would drive me mad and increase the risk of a mechanical.
So far this summer I have done three 2-3 hour events and one 4-5 hour event without needing to re-lube. These events had some water crossings, so I can say that Bike Milk has already preformed better than any previous lubes I have used (predominantly Rock'n'Roll Extreme and White lightning). I look forward to seeing how Bike Milk handles the bulk of my summer season which is from Feb-April and consists of mainly endurance races with lots on hills and valleys with river crossings – it will be a good test for Bike Milk.
I targeted 3 marathon races for late summer/autumn. The first was to be the Coppermine race in Nelson in February, but my brother returned from Europe and gave me the flu which meant I was sick for 2 weeks and lost 5kg and missed that race.
Next was the Mt Peel marathon with 2600m climbing over 75km and about 20-25 river crossings. I had a great race – wind was terrible on the top half of the 'hill' (1000m-1500m amsl). It was difficult to stay of the bike with grades of 25-35% in places and the howling wind blowing you around on the loose rocky surface and threatening to blow you right off the mountain in exposed places. It was a relief to start the downhill after almost 2 hours of climbing. I had moved from 10th to 5th on the climb and would stay in this position until the gorge and multiple river crossings. I got caught when gassing a slow leak and I rode with Tim through all the rivers until the last climb where we were too busy talking and missed a turn and were rewarded with an extra 200m of climbing and a loss of 3 places.
I started the river crossings annoyed at myself for forgetting my small bottle of Bike Milk as I was sure I would need to re-apply to a wet, muddy and squeaky chain very soon – I have always needed to in the past. To my surprise, the chain was quiet and changing well right to the end and it was caked in mud.
It got cleaned the next day in about 30 seconds, lube re-applied and no rust or ill effects from what is considered the hardest marathon race in NZ.
This stuff just seems to keep working better and better on my bike. I've been putting Rock'n'Roll on my wife's bike as a comparison and I need to re-apply much more often. She avoids mud and her chain always gets much grimier than mine with the Bike Milk.
See Mt Peel course profile below.

I've had 1 race since which was the Arrowsmith – this also started with a big climb – 700m. Had a great day here – went from 3rd at the bottom of the hill to a lead of 2 minutes at the top. Was very steep and rocky in places, but only had to dismount for 1 50m section. Once I had the lead I had to go hard where possible and show caution on rocky scree slopes – some of which had baby-head sized rocks – almost bought the 29er to a stop on these downhills they were so rough. I had punctured here when I last did this race 7 years ago while in the lead and I ended up with 3 punctures that day and road 10km on the rim to finish. I was a bit paranoid about puncturing again. But I negotiated the scree slopes without incident and river crossing also. New were a few muddy bog holes which almost swallowed the bike and gave the chain, frame and me a healthy mud pack. Again – no complaints from the chain and smooth shifting all the way. Although it was a relatively short 2 hours 18min so I expected no drive chain problems.
Next up this weekend is my last main race for the season – 125km around Lake Hawea. Aiming for a 5.30 finish time. Only a few river crossings in this one, but could be dusty with quite a bit of gravel road, so will be interesting to see what's in a better state at the end of the day – my body or the chain. Might carry a bottle of Bike Milk just in case.